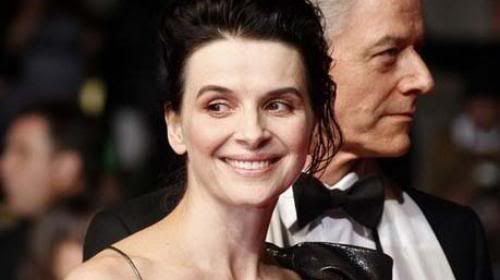 During press rounds for the NYFF premiere of Abbas Kiarostami's "Certified Copy," we sat down with actress Juliette Binoche, who you may know for being the face of the 2010 Cannes Film Festival and winner of the festival's Best Actress award. At the close of a round-table interview, the actress, while discussing the difficulties in playing her character in the film, revealed she would be re-teaming with the director in the future saying, "I said to [Kiarostami] in the mail, recently, because we have another project… I'm just wishing I'll be less tense on the next project."
After persisting a bit, she gave some bare bones information on two new films of Kiarostami's, the latter one being theirs. "He's doing a project in Japan, he was going to do it in Korea but now he's doing it in Japan. The new script we'll do together will be available in November, so I don't know yet.. I know a synopsis, but.." In response to even more persistence, Binoche politely laughed and said "No! You have to be patient for it to grow because he has his own rhythm." We respectfully pulled back and decided to dig around a bit, hoping to find some scraps to put together that might make sense.
In an interview with New York Times this past spring, the director noted that his "next film would be a road movie too." Would this be the now-set-in-Japan film? It's possible, as the Binoche project sounds much too recent to have been talked about in May. Unpredictable and fearless, this is a man that does what he wants, take it or leave it, so we're curious to see what he has in store. "Certified Copy" will roll out via IFC Films and VOD in early 2011, and we more than implore you to see it.