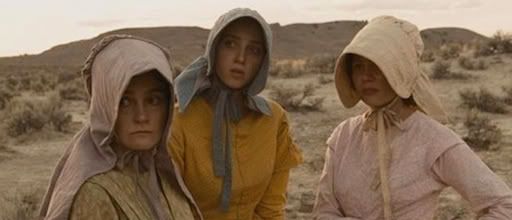 More acquisition news from the Toronto International Film Festival following the first round up which saw the likes of likes Robert Redford's period court-room drama"The Conspirator," James Gunn's realistic take on superheroes in "Super" and James Wan's horror-thriller "Insidious" all find homes.
First up, Kelly Reichardt's latest effort "Meek's Cutoff" will see her return to the home of her last film ("Wendy And Lucy,") Beastie Boy Adam Yaunch's distribution shingle created in 2008, Oscilloscope Laboratories. The period road film features a strong cast including Michelle Williams, Shirley Henderson, Zoe Kazan, Paul Dano and Bruce Greenwood and follows the historical tale of Stephen Meek who led an ill-fated contingent of wagons through a shortcut en route to Willamette Valley in 1845. Our TIFF review described it as a "slow, but meditative with merit."
The duo of Lionsgate and Roadside Attractions continue their Toronto spending spree with Dan Rush's "Everything Must Go," featuring a dramatic turn for comedic stalwart Will Ferrell. Inspired by a Raymond Carver short story, the film follows a recovering alcoholic who holds a yard sale of his life belongings after he gets fired and comes home to find that his wife has thrown all his stuff on the lawn. The deal is reportedly north of $3 million dollars for what was hot property with up to 5 offers on the table. Our review called it "a tender and winning indie drama with Will Ferrell at his low-key best."


A throwaway line in this announcement also noted that Focus Features are on the cusp of purchasing Mike Mill's "Beginners" starring Ewan McGregor and Christopher Plummer; more to come on this front, for sure.
Other highlights include IFC Films, who have already bought "Super," acquiring Barry W. Blaustein's "Peep World" which stars Michael C. Hall, Sarah Silverman, Rainn Wilson, Ben Schwartz, Judy Greer, Kate Mara and Taraji Henson and centers on a family of four siblings who gather for their dad's 70th birthday. Chaos surely ensues, which also seems to the theme behind Kim Ji-woon's "I Saw The Devil," a South Korean revenge thriller starring familiar faces Choi Min-sik ("Oldboy") and Lee Byung-lee ("G.I. Joe") that has been picked up by Magnet.
Deals have also been finalized for Lorber Films with Michaelangelo Frammartino's docu-essay about village life and the circle of life "Le Quattro volte"; Anchor Bay with Shawn Ku's parenthood drama "Beautiful Boy" starring Michael Sheen and Maria Bello; and Music Box Films with Francois Ozon's screwball comedy starring Catherine Deneuve and Gerard Depardieu, "Poliche." [Indiewire]