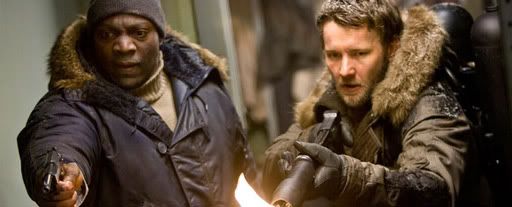 "An orgy of blood" was how "The Thing" was described at NY Comic Con by Adewale Akinnuoye-Agbaje, one of the stars of the upcoming prequel. The cast, producers and director unspooled a brief teaser for the film for the Comic Con crowd, but it offered very little hint as to what's going on in the film. It does take place at the Norwegian base seen in John Carpenter's horror classic, long after inhabitants fell prey to an unseen creature, and cast and crew confirmed it does lead into the Carpenter film. But how?
Akinnuoye-Agbaje said that he is among the American characters in the film, who arrive at the base for various reasons. "It's a conflict between Americans and Norweigans," he says. "We don't like them, and they don't like us. They think we're lazy and brash and arrogant. We think they're crazy. And drunk! And these guys are always going at it, drinking whiskey to stay warm. Me and Joel [Edgerton], our characters, we're just aboard to make a buck, that's all we care about.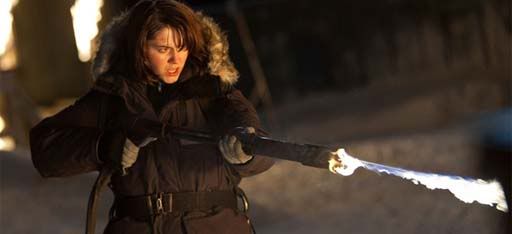 Edgerton, who has more than a passing resemblance to Kurt Russell, echoed this. "In the movie," he said, "we were sent to all the bases by helicopter, and that's how we get in touch with this motley crew of scientists." As a big fan of the original, he claimed, "We tried to make a movie that was complementary to the Carpenter version." When discussing the "rules" of the film, he demurred to the Carpenter version. "The rules allow for definite arguments as to certain rules, which I think is great. We didn't try to answer every question. For example, I did some research and learned that in the original movie, Kurt Russell and others on the set were having large arguments that, if you were the alien, would you know you are the alien? Are you aware that you're the alien? Which I think is a very great question. How aware are of you are those things? I love the mystery the first film is left with. And we did shoot a couple of scenes in different ways, so I think that helped with the ambiguity."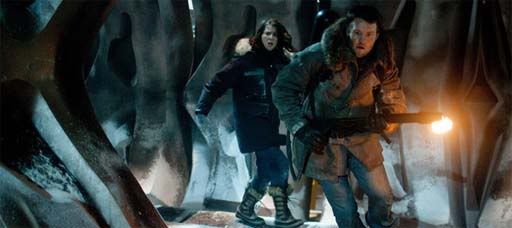 "The Thing" is the directorial debut for Matthijs van Heijningen, a commercial helmer, but it wasn't supposed to be. Heijningen was handpicked by Zack Snyder to direct "Army of the Dead," a big budget zombie picture set in Las Vegas. He confirmed the death of the project right before the Writer's Strike, saying, "I was about to do a movie that fell through three months before shooting. A big zombie movie with Zack Snyder, 'Army of the Dead.' We were really prepping that movie and at the last minute they pulled the plug, so after six months of our work, there was nothing."

Van Heijningen came aboard the project while Strike Entertainment, where Snyder remade "Dawn of the Dead," was considering a script by "Battlestar Galactica" creator Ron Moore, but Van Heijningen had a good reason to axe that draft – he hated it. "When I came on, there was already the Ronald Moore version, which I didn't really like, for the reason that we knew what The Thing was, and the point is that you SHOULDN'T know. So we basically started from scratch afterwards."

Not all of his ideas were used, however. Bringing on Mary Elizabeth Winstead to a very macho cast of men led to a number of discussions about the Thing getting sexy with his/her bad self. "We had had these discussions about sexuality. We had seen a Werner Herzog doc, 'Encounters At The End Of The World,' and at the end, everybody is sexless! They're these sexless entities, like seals and stuff. But I thought it might be too obvious."
Not too obvious is the fact that, with a release date so far off, the studio is eying reshoots. Eric Christen Olsen confirmed as much when talking about pocketing certain prosthetics. "Well, I'd love to, but there's still reshoots, so you can't do anything with them. But I should put that in my contract. They're packed away in a box somewhere, waiting to be used again. At one point, we had them with us, and customs stopped us, and they opened one of those boxes, and it's The Thing… in a box! He FREAKED out. They sent in the SWAT, there were cops. It was crazy."
"The Thing" opens on April 29th, 2011. Btw, if you're into bootleg trailers, one has hit the web, but if you're a fan, you should probably wait for the real thing as it's shot off a screen and doesn't look great.