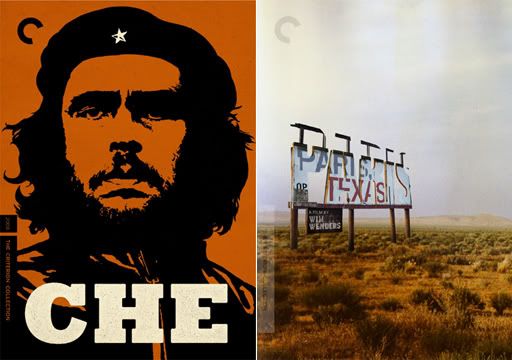 Criterion announced their January slate this afternoon, and if its any indication of what 2010 has in store, we're all in for a massive treat and it should quiet the cinephiles stacking their spine numbers who've been complaining of late of the company's supposed contemporary slant to their releases.
First up is the company's long-awaited DVD and BluRay release of "Che", which if anything, should please Jeffrey Wells. As Peter Becker promised, the release has been worth the wait as the 3-disc DVD or 2-disc BluRay is completely stacked with extras. Among the features are a feature length commentary by Jon Lee Anderson, author of "Che Guevara: A Revolutionary Life" which should be absolutely fascinating; a documentary, "Making 'Che' " about the film's production that includes interviews with director Steven Soderbergh, producer Laura Bickford, actor/producer Benicio del Toro and writers Peter Buchman and Ben van der Veen; interviews with historians and participants in both 1958 Cuban and 1967 Bolivian campaigns and some deleted scenes. Criterion tantalizingly ends the list of extras features with a cryptic "More!" promising even more goodies. Slow down guys, we're still picking our jaws up off the floor reading about the stuff you've already announced.
Of course, Criterion is preserving the two different aspect ratios of each film (for all you tech heads Part One was in
2.35:1 and Part Two was in 1.85:1). Their announcement also includes a mangled explanation of what versions we're getting: "Originally released in two parts, the first a kaleidoscopic view of the Cuban revolution and the second an all-action dramatization of Che's failed campaign in Bolivia. Che is presented here in its complete form" but we're assuming this means the roadshow versions. I think it's safe to say each part will be on their own disc on DVD, while the entire version will get one platter of the BluRay set. We think "Che" is definitely one that needs to be watched in one shot, not split up, and also considering the film was shot was using Red One cameras, the BluRay should be the version everyone should get. And if you don't have a BluRay player yet, Christmas is around the corner so you have plenty of time to find the inevitable deals the season will bring.
Also finally coming on DVD and BluRay from Criterion is Wim Wenders atmospheric and iconic "Paris, Texas" in another fully stacked edition that includes commentaries, vintage interviews, super 8 home movies, deleted scenes and more. One of Wenders' best films, it's hard to exactly explain what the film is about but it follows a drifter named Travis (Harry Dean Stanton) who tries to reconnect with his son and find his missing wife. But the slow-burning and meditative film, celebrated for its cinematography of dustbowl America, quietly expands into themes on masculinity and the American family and is generally one of Wenders few late-career highlights.
And if that isn't enough, Criterion just happened to fully restore Roberto Rossellini's War Trilogy. The films — "Rome Open City," "Paisan," and "Germany Year Zero" — were shot in battle scarred Italy and Germany and are considered by many to be the launching pad of the neorealist movement. Previously unavailable on DVD, this three disc set comes absurdly loaded with enough interviews, documentaries and essays to make a film nerd wet himself.
Save that Xmas/Hanukkah/Kwanza money kids. These discs are all worth the wait.
Update: We were so busy drooling over Criterion's new, mainline titles that we completely forgot to mention their Eclipse and catalog announcements.
First up, Fellini's film school staple "8 1/2" gets a much deserved BluRay upgrade in January. The BluRay edition will feature the same extras as the current DVD, but will also add a new 52-minute documentary, "The Last Sequence," about the lost, alternate ending Fellini created for the film.
Lastly, Criterion follows up their release this year of Chantal Akerman's still shocking "Jeanne Dielman, 23, quai du Commerce, 1080 Bruxelles" with an Eclipse set of her '70s films. The two disc set will feature five films from the Belgian director including: "La Chambre," "Hotel Monterey," "News From Home," Je Tu Il Elle" and "Le Rendez-Vous D'Anna." These films highlight Akerman's early, minimalist and experimental work and combined with "Jeanne Dielman" finally gives the filmmaker solid representation on video on this side of the ocean.