With the benefit of a year's hindsight, this year's Sundance was a particularly strong one. Many of the premieres there, the likes of "The Cove," "Precious," "Big Fan," "Humpday," "Sin Nombre," "(500) Days of Summer," "An Education," "Bronson," "Moon," "In The Loop," "The Messenger" and "Adventureland," set the tone for the rest of the year, well into the upcoming awards season. Sundance announced their 2010 In Competition line up on Wednesday (with out of competition films announced Thursday – which we will be getting too shortly), and there's plenty that sounds interesting, although as ever, these are mostly unknown quantities. Nevertheless, some of the more interesting movies, on the surface at least, appear to be:
Documentaries
— "Casino Jack & The United States of Money" – from Oscar-winning documentarian Alex Gibney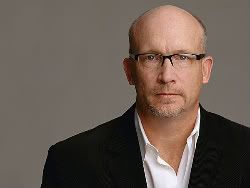 ("Enron," "Taxi to the Dark Side"), this is one of two movies this year examining the life and crimes of disgraced lobbyist Jack Abramoff (Kevin Spacey plays him in the other, a biopic from George Hickenlooper ("Factory Girl").
— "I'm Pat ______ Tillman," from Amir Bar-Lev, director of "My Kid Could Paint That", following the family of football star and war hero Pat Tillman, who died in a friendly fire accident in Afghanistan in 2004.
— Sundance favorite Jeffrey Blitz ("Spellbound," "Rocket Science") returns with "Lucky" a portrait of several lottery winners.
— Oscar winner Davis Guggenheim ("An Inconvenient Truth") is there with "Waiting for Superman," which examines crisis in the public school system in the US – a deserving cause, no doubt, and hopefully a Powerpoint free film.
— "Kick in Iran," which tells the story of the first Iranian Taekwondo champion to qualify for the Olympics.
— "Bus 174" director Jose Padilha, also behind the hit fictional thriller "Tropa de Elite," and soon to make his Hollywood debut, brings "Secrets of the Tribe," which looks at scandal and infighting among anthropolgists studying indigenious Indians in the Amazon basin.
Dramatic Features
— One of our most anticipated films of 2010, "Blue Valentine," will make an appearance in competition. A portrait of a marriage starring the exciting pairing of Ryan Gosling and Michelle Williams, it comes from director Derek Cianfrance, whose "Brother Tied" made quite a splash over a decade ago.
— America Ferrera leads a cast including Ethan Suplee, Wilmer Valderrama and Melissa Leo in "The Dry Land," about a soldier returning home from war. Sort of an odd cast, that one…
— "happythankyoumoreplease" is "How I Met Your Mother" star Josh Radnor's attempt to 'do a Zach Braff' and graduate from sitcom lead to indie auteur, with a story of six twentysomethings in New York, also including Malin Akerman, Kate Mara and Pablo Schrieber. Could be another "Brief Interviews With Hideous Men", but we're told the script is pretty good.
— "Hesher" sees Sundance fave Joseph Gordon-Levitt return, alongside Natalie Portman and Rainn Wilson, for a story about a trickster who visits a grieving family.
— Rob Epstein and Jeffrey Friedman, directors of classic gay documentaries "The Times of Harvey Milk" and "The Celluloid Closet," make their feature debut with "Howl," following Allen Ginsberg and the obscenity trial that followed the publication of the titular poem. Unfortunately, David Cross doesn't reprise his role from "I'm Not There," with the decidedly different-looking James Franco taking over, leading a cast that also features Jon Hamm, David Strathairn, Mary-Louise Parker and Jeff Daniels.
— Jesse Eisenberg returns, following last year's "Adventureland," with "Holy Rollers," which sounds a little like "The Wackness" – a young Hasidic man becomes an international Ecstasy dealer.
— "The Hurt Locker"'s Anthony Mackie gets a well deserved leading role in "Night Catches Us," set in Philadelphia during the Black Power movement. Also starring Bunk from "The Wire"!
— Mark Ruffalo's terribly-titled directorial debut "Sympathy for Delicious," which stars Ruffalo, Orlando Bloom, Juliette Lewis and Laura Linney.
— "Welcome to the Rileys," set in post-Katrina New Orleans, starring James Gandolfini, Melissa Leo and Kristen Stewart.
— "Animal Kingdom," an Australian movie about an orphaned 17 year old caught between a powerful criminal family and a cop, starring Guy Pearce and Joel Edgerton.
— "Four Lions," from British comedy god Chris Morris, about a group of incompetent would-be jihadists. This year's "In The Loop," but almost certainly funnier, and infinitely more offensive.
You can find the full line up over at Sundance's website, or Indiewire have some good breakdowns of some of the other movies. It looks like a pretty good year, although perhaps not up to the standards of last year, but then, who knew last year that the one about the abused, obese black teenager would end up a near-certain Oscar nominee?…