Three years ago, writer-director Gillian Robespierre, writer-producer Elisabeth Holm, and actress-comedian Jenny Slate won over Sundance — and then had a small-but-significant arthouse hit — with their offbeat romantic comedy "Obvious Child," a frank and funny look at how an unplanned pregnancy shakes up one struggling New Yorker woman's life. Now the trio are back with "Landline," which is about three New York ladies — a mother and two daughters — in various stages of personal crisis. But the new movie lacks the one big idea that animated its predecessor, and the absence of a plot-driver is hard for Robespierre and company to overcome. Unlike "Obvious Child," "Landline" plays like a series of semi-successful comic and dramatic scenes, haphazardly arranged into something resembling a story.
READ MORE: 'Obvious Child' Director Gilliam Robespierre & Jenny Slate Talk Boundaries In Comedy, Naturalism, Improv, More
The movie's title is a reference to the era in which it's set. "Landline" plays out over the course of the autumn of 1995, and Robsepierre doesn't spare the era-specific signifiers, from the 20-year-old technology to the soundtrack filled with songs by the likes of The Breeders and Pavement. But 1995 never becomes much more than a backdrop here. It's not really integrated into the plot in any meaningful way, outside of giving the entire film the quality of a memory, tinged equally with sourness and nostalgia. Otherwise, this is a milieu in search of a purpose.
Slate plays Dana Jacobs, a layout artist for Paper magazine who's recently engaged to her fairly vanilla boyfriend Ben (Jay Duplass). When Dana runs into her dreamy old college crush Nate (Finn Wittrock), she impulsively begins having an affair with him. But first she "temporarily" moves out of Ben's apartment and back home, claiming to her fiancé that she needs to be there for her mom and sister during a difficult time. She's not entirely lying. Her sister Ali (Abby Quinn) is a rebellious high schooler who's been dabbling in hard drugs, and blaming her bad attitude toward her parents on her recent discovery that her dad Alan (John Turturro) has been having an affair. Meanwhile, the girls' mother Pat (Edie Falco) has been converting all of her worries about the collapse of her family into sarcasm and sniping.
READ MORE: Watch: First Trailer For Sundance Breakout Hit 'Obvious Child' Starring Jenny Slate, Gaby Hoffmann & David Cross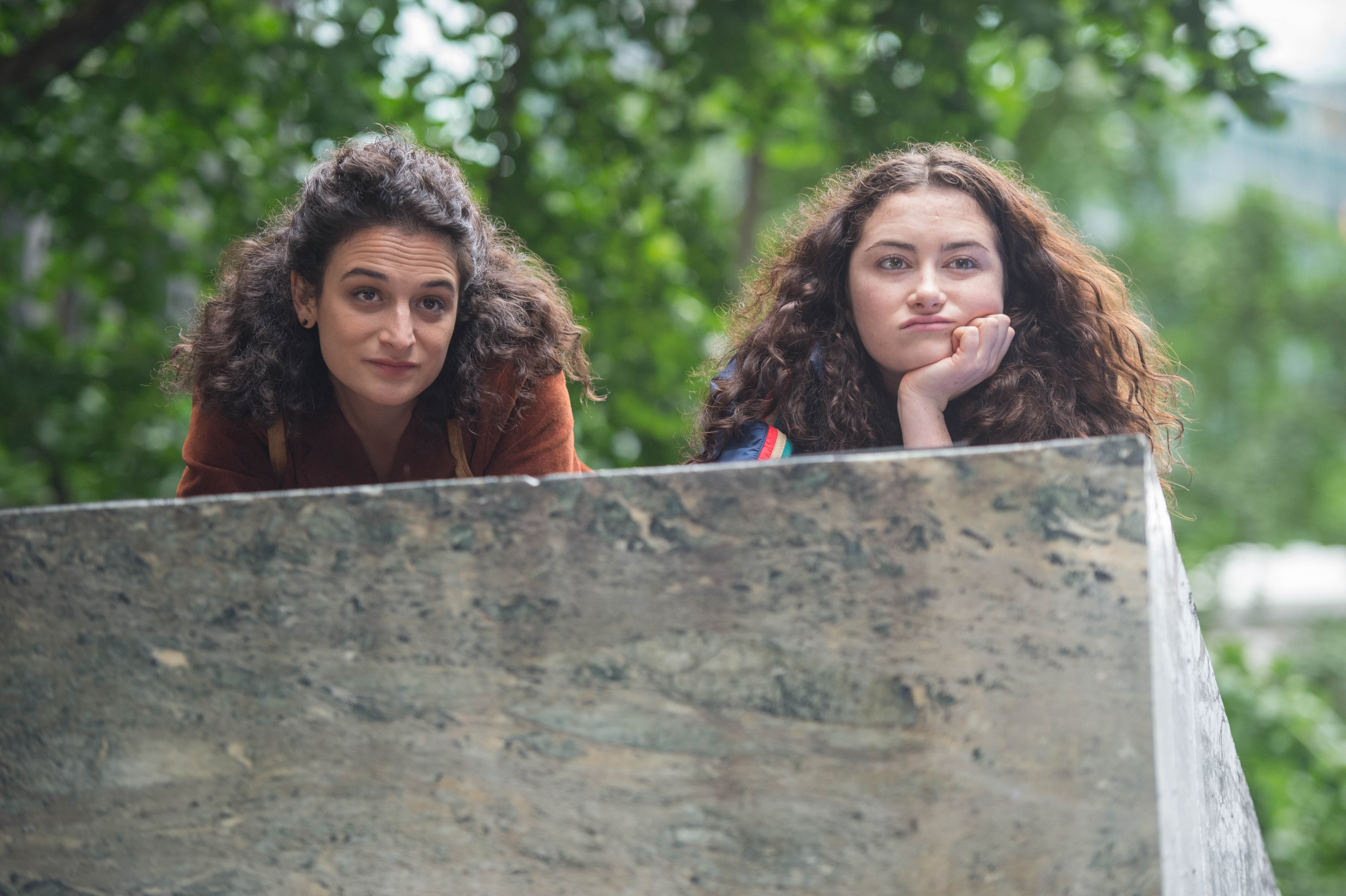 The best scenes in "Landline" involve Dana and Ali reconnecting, after years of being typically bickering siblings. Quinn and Slate have remarkable chemistry together (and look uncannily similar), and Robespierre and Holm have a keen understanding of the slippery dynamic of their relationship. Ali paradoxically starts becoming more responsible as she watches her big sister trashing her future out of a fleeting sense of panic over growing up and settling down. Dana, meanwhile, gains strength from her kid sister's uncompromising individuality.
Ultimately though, as with the indiscriminate use of 1995, the sisterly friendship is just one discrete element of "Landline," and not what the movie's about per se. The same could be said of the subplot about Alan's cheating — which his daughters investigate, Nancy Drew-style. It's something that fills about ten minutes of screen-time, and it has some thematic parallels to what Dana's going through, in that she's worried that mature romantic commitment may be too confining for her. But it never fully connects with everything else that happens in this movie — perhaps because there's nothing in particular driving "Landline" forward.
"Landline" is by no means a total whiff. The performances are all outstanding, and there are scattered scenes throughout the film that resonate. The comedy is hit-and-miss — it's mostly raunchy sex jokes — but the dramatic confrontations between lovers and family members have a lot of the raw honesty that made "Obvious Child" so special. Still, boiled down to its essence, this is yet another indie dramedy that seems to think that "being a responsible adult is hard" is some kind of profound revelation, worthy of 90 minutes of well-meaning meandering. In a way, setting the story in 1995 only clarifies how much this movie tastes like leftovers. [B-]
Click here for our complete coverage from the 2017 Sundance Film Festival