It looks like Paramount really believes in J.J. Abrams "Star Trek," prequel. The studio has just announced that writers Roberto Orci, Alex Kurtzman and Damon Lindelof have been hired to write a sequel. Orci and Kurtzman wrote the first film coming out May 8 (they're also the screenwriting duo behind the "Transformers" series and have been in the Abrams stable for years) and Lindelof was one of the producers.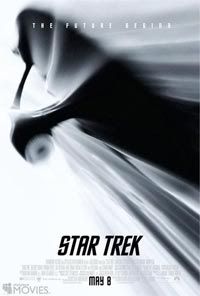 "There's obviously a lot of hubris involved in signing on to write a sequel of a movie that hasn't even come out yet – but we're so excited about the first one that we wanted to proceed," revealed Lindelof, Abram's co-creator on "Lost." Regarding the film's direction, he further added "With a franchise rebirth, the first movie has to be about origin. But with a second, you have the opportunity to explore incredibly exciting things. We'll be ambitious about what we'll do."
Abrams and the three writers will also produce the sequel along side Abrams' Bad Robot partner, Bryan Burk. Though, it is not known whether or not Abrams will direct the second picture. Paramount hopes the writers can deliver a script by Christmas this year when they can proceed with the targeted summer 2011 release.
A new poster for the film (right) was recently released on the eve of the film's world premiere at the Sydney Opera House next Tuesday. The film will then embark on a world tour before it's global release in the first week of May.
Interestingly, Orci annouced via Don Murphy's (producer of "Transformers") forums last week that he and Kurtzman will be passing over writing duties for the third installment of Transformers. With the third Transformers also due in 2011, could this Star Trek announcement having anything to do with their decision?