"Nothing is a matter of probability. If you put your spirit to something that phenomenon will happen; when you are determined, when you deeply enter that dimension that I call the 'Dance of reality.' – Alejandro Jodorowsky
Just released to DVD are the films of Chilean-born, '60s crackpot surrealist Alejandro Jodorowsky. An acid-soaked hodgepodge of unintentionally funny psychedelia, gratuitous blood, gratuitous nudity and lesbianism, wanton religious and militaristic iconography and other hippie-laden hilarious nonsense, the film, "El Topo," became an instant cult-classic upon its release in 1970 (it's ostensibly about a gunslinger on a "spiritual quest").
In a move that by today's standards is credibility suicide, John Lennon and Yoko Ono at the time called "El Topo" the greatest film ever made (a statement yielding perhaps the most concrete evidence of Ono's Lennon indoctrination, other than moments of Double Fantasy,) at a midnight screening and their outrageous proclamation birthed the ridiculous cultural ritual of viewing bad, borderline unwatchable films for reasons other than their artistic merit (kitsch and irony values) at a time when most people are sleeping.
Beautifully shot, with a seemingly enormous budget, "El Topo," and perhaps more pronouncedly, the follow-up, "The Holy Mountain" (1973), are recorded proof of the hippie-era gone wrong and the effects of too much LSD consumption.
For example: At the beginning of "Holy Mountain," Jesus pisses his pants and an one armed legless man halls him on top of a crucifix so he can be stoned by devilishly laughing children. Then Christ comes down and smokes a J with the same stumpy Mexican dude who proceeds to caress his forehead with his stump; we're not even 10 minutes into the film at this point.
'Mountain' was financed by John and Yoko, who convinced notorious slimy rock manager Allen Klein to dump money into this heir apparent (Klein's ABKCO company are the folks finally re-releasing these films on DVD).
So influential were Jodorowsky's cinematic monstrosities on the drug-addled and credulous '60s generation, that then lost-in-the-woods actor, Dennis Hopper enlisted the surrealist to help him rush-edit, his rarely-seen 1971 lost-in-Peru disaster, "The Last Movie."
"With all the girls I said, 'You need to have sex with the director.' " – Jodorowsky
A snake-oil salesman, tireless self-promoter, and self-styled guru (this is a guy who liked to stage '60s hippie "happenings") Jodorowsky was once a mime, friend to Marcel Marceau, then tarot-card authority, and eventually became a general new-age fruitcake. Some critics saw "El Topo" as a counter-culture, post-Altamont masterpiece. Others like Pauline Kael thankfully saw through its hallucinatory dubiousness and woeful misogyny essentially labelling it as hippie rubbish.
However, 'Topo' does feature "The Three Amigos" villain, El Guapo which is never a bad thing (spoiler: he gets brutally killed within 10 minutes of being onscreen).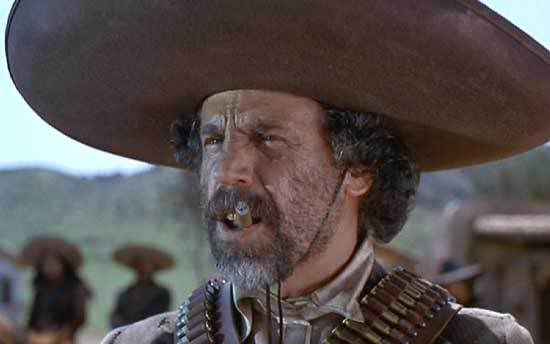 El Guapo: Are gringos falling from the sky?
[Ned falls from overhead and lands with a thud]
Jefe: Yes, El Guapo.
A product of the post-Manson, pre-Nixon, America's-about-to-go-wrong-era, Jodorowsky's films are a wonderful example of how the hippie generation became lost in its own indulgences.
In 1975, Jodorowsky almost shot Dune with Orson Welles, Mick Jagger and Salvador Dali, but fortunately or unfortunately, this probable hilarity never got past the production stage. The would-be cast of actors and artisans working on the film included Alain Delon, scriptwriter Dan O'Bannon, renowned science-fiction illustrator, Chris Foss, H.R Geiger, and comics legend Moebius (many of these people would later work on Ridley Scott's Alien; Dune would eventually be ruined by another surrealist, David Lynch).
Pink Floyd and prog-rockers Magma were also allegedly on board to compose the score, but like many of the tales surrounding Jodorowsky's films, it was hard to determine legend and myth from fiction.
The director's soundtracks, naturally, are also totally off their rockers; obscuro, freak-out psyche riffs full of entertaining flutes, chanting, and generally out-there grooviness.
Written by the director himself (naturally) with the help of arranger/conductor, Mexican cat, Martin Fierro (Under the name "Shades of Joy") the "El Topo" soundtrack features moments of free-jazz, acid-rock and other hippie ephemera. "The Holy Mountain" score is credited to free jazz deity Don Cherry and Archies keyboardist Ron Frangipane along with Jodorowsky of course. You can read more about them and Fierro's personal thoughts over at the taste-making archivists at Dinosaur Gardens.
An interesting aside: People still buy into Jodorowsky's nonsense.
The now-graying director officiated Marilyn Manson's not-so-legal marriage to Dita Von Tese before he started fucking 18 year olds.
Download: Shades of Joy – "Dream" ("El Topo") [mp3]
Download: Shades of Joy – "Together" ("El Topo") [mp3]
Download: Alejandro Jodorowsky, Ronald Frangipane & Don Cherry -"Great Toad and Chameleon Battle" ("The Holy Mountain") [mp3]
Download: Alejandro Jodorowsky, Ronald Frangipane & Don Cherry – "Venus (Vond)" [mp3]
"The Films of Alejandro Jodorowsky" DVD trailer