Oh Harvey, what were you thinking?
Ok, so let's start from the top. There was a stink between Harvey Weinstein and Scott Rudin over when the film "The Reader" starring Kate Winslet and Ralph Fiennes would be released (Weinstein is distributing, Rudin produced). In the end, Weinstein won the battle and got his way, the film will be released this year on December 12 during Oscar-bait season (Rudin has a few other films in contention for Oscars this year and didn't want to compete against himself and had hoped to release the film in 2009).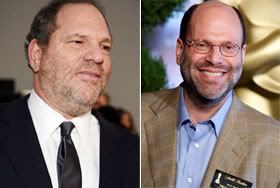 Weinstein was then portrayed as a "heartless ghoul" who would stop at nothing to get a film ready for Oscar time (the director Stephen Daldry wanted more time to fix and finish his romantic WWII-drama, but Weinstein doesn't have much Oscar hopes this year outside that film, hence his insistence of having it ready for 2008, no matter what).
According to the Deadline Hollywood run by Niki Finke, Weinstein apparently "had badgered Sydney Pollack, one of the producers of "The Reader," on his cancer deathbed, and pressured the widow of another producer, Anthony Minghella, shortly after Minghella died of a hemorrhage last March" [ed. Jesus]. She had received the info from an email from Scott Rudin she claimed.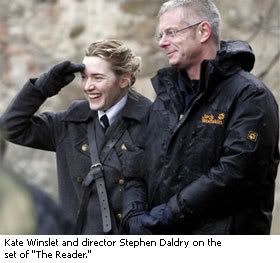 Weinstein vehemently denied these claims and told the New York Post's Page Six he would donate $1 million dollars to charity if Finke could reproduce the email, which she then did almost immediately.
Rudin of course denied that the email was his, and then later recanted and admitted he had penned the email and wrote to Finke and said Weinstein's people had "pestered him to 'protect Harvey and deny the email and lie to Page Six' — so he told me he did 'in order to keep peace for the next weeks that the two of us still have to work together on The Reader.' "
Ouch. So not only does Harvey Weinstein owe a million dollars to some random charity (if he keeps his word, perhaps editors with disabilities?), he now hates Scott Rudin's guts all the more. What an ugly, ugly situation, but you can't really blame Finke. All that stuff was on the table and lies make everyone look like bigger jackasses. Promoting and marketing "The Reader" should be fun. Could you imagine if the film makes it to the Oscars? With both men vying for a piece of the glory and action? This could get even better, but man, is this film already tainted goods or what?
Weinstein has had a bad week.
First off, MGM is dumping Weinstein Company in their distribution deal, which leaves Kevin Smith's Zack and Miri Make Porno" in the lurch (just to name a one film that is quickly losing MGM $ and support), and then the NYPost leaked an audio telephone conversation with Quentin Tarantino during the "Jackie Brown" days (circa 1997), about fussy star Robert DeNiro who was apparently pissed he wasn't receiving enough money for his supporting role in the film. Weinstein was mediating and warning QT that he might be receiving an enraged midnight phone call from the actor. Someone call Weinstein's masseuse, stat. Dude has a killer headache and is all knotted up on top.